Hot Promotion from Viet Home Stone - The leading manufacturer from Viet Nam!

Time

: In December
Subjects of application

: All our customer ordering in December
Products

: Mosaic & Wall Cladding



As you may know, Vietnam is one of world's most peaceful nations, attracting tourists for beautiful landscapes, friendly people, and rich cuisine.
Would you like to taste our cuisine? If yes,
please place an order within December 2019
to receive the most meaningful gifts from us.
Non la (palm-leaf conical hat)
Non la (palm-leaf conical hat) is a traditional symbol of Vietnamese people without age, sex or racial distinctions.
Like many other traditional costumes of Vietnam, Non la has its own origin, coming from a legend related to the history of rice growing in Vietnam. The story is about a giant woman from the sky who has protected humankind from a deluge of rain. She wore a hat made of four round shaped leaves to guard against all the rain. After the Goddess was gone, Vietnamese built a temple to commemorate her as the Rain-shielding Goddess.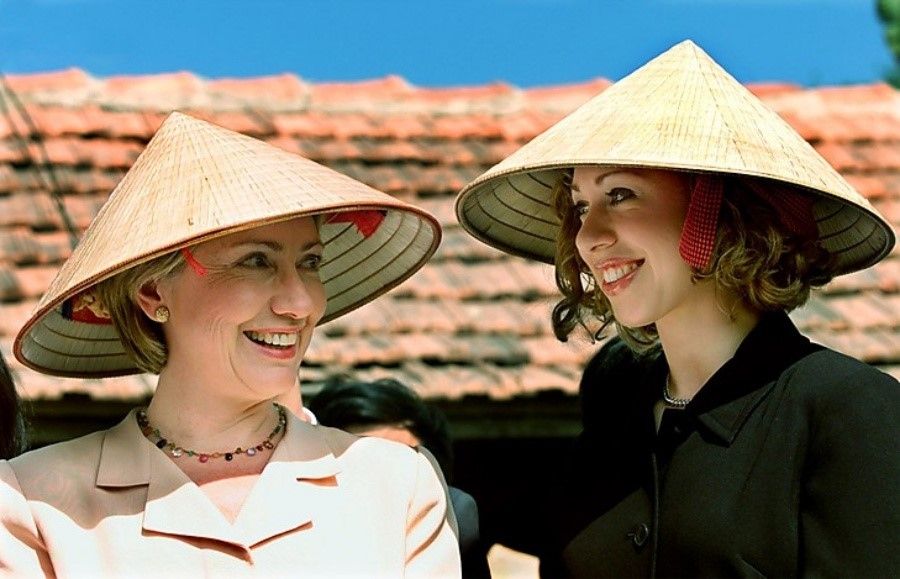 Customers are extremely interested in Vietnamese leaf hats.

Vietnamese tried to make a hat modelling after the Goddess' by stitching together palm leaves, which is now known as Non la. The image of Non la has become strongly associated with peasant lives from the paddy field to boat men and women.

Vietnamese Rice Paintings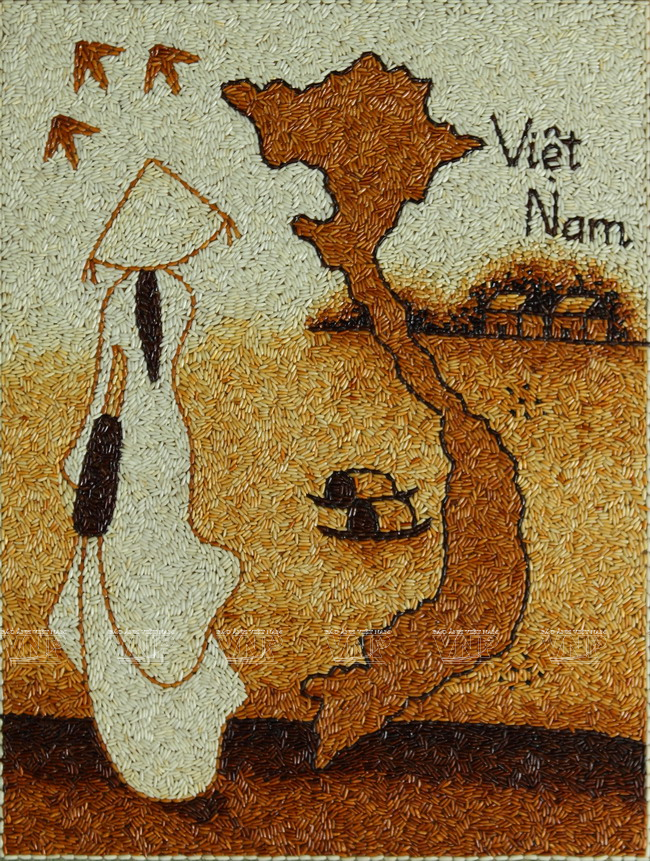 There is no doubt that Vietnam is one of the leading rice exporters in the world. For thousands of year, rice has not only been associated with farming but also the cultural, spiritual life and prosperity of the nation. But perhaps not many people know that in addition to export, Vietnamese rice grains are also involved in the field of art. From the natural rice grains, through the skillful hands of the artisans, the unique and creative works of art have been created known as Rice Painting.
Conical wind chimes
Wind chimes are made of ceramic and porcelain. There are used as a home decoration.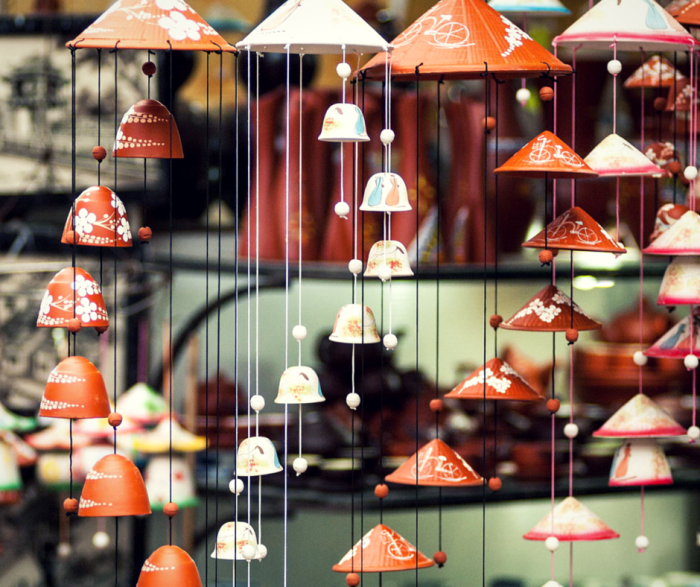 Handmade Bags
Bags made from many different materials such as sedge, bamboo, cork, fabric. Those are pretty small items that attract a lot of tourists.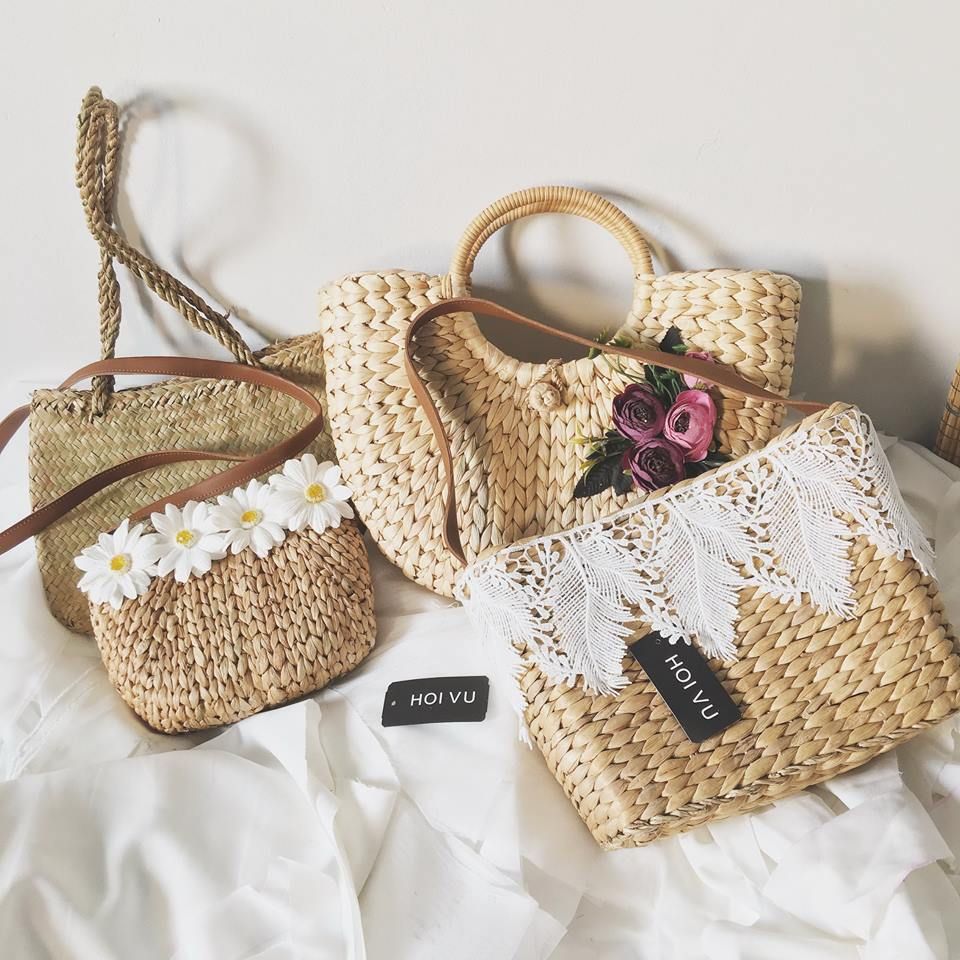 Shan snow tea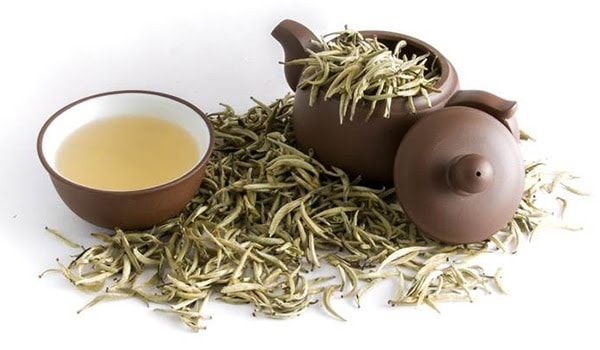 Snow tea is a special tea with tea fibers covered by white fluffy as snow. That must be the tea buds are sucking dew, on the leaves surface coated with a thin coating silver iridescent as snow.

Shan snow tea trees wild growing at a height of nearly 1,400 – 2,000 meters above sea level in northern Vietnam, most of which are over 300 years old with huge trunks covering several meters in diameter.
Coated with a white/grey color, tender tea leaves are likened to snow flowers, thus named 'snow Shan tea' with Shan meaning 'mountain'. It's real Organic green tea!

Vietnam Coffee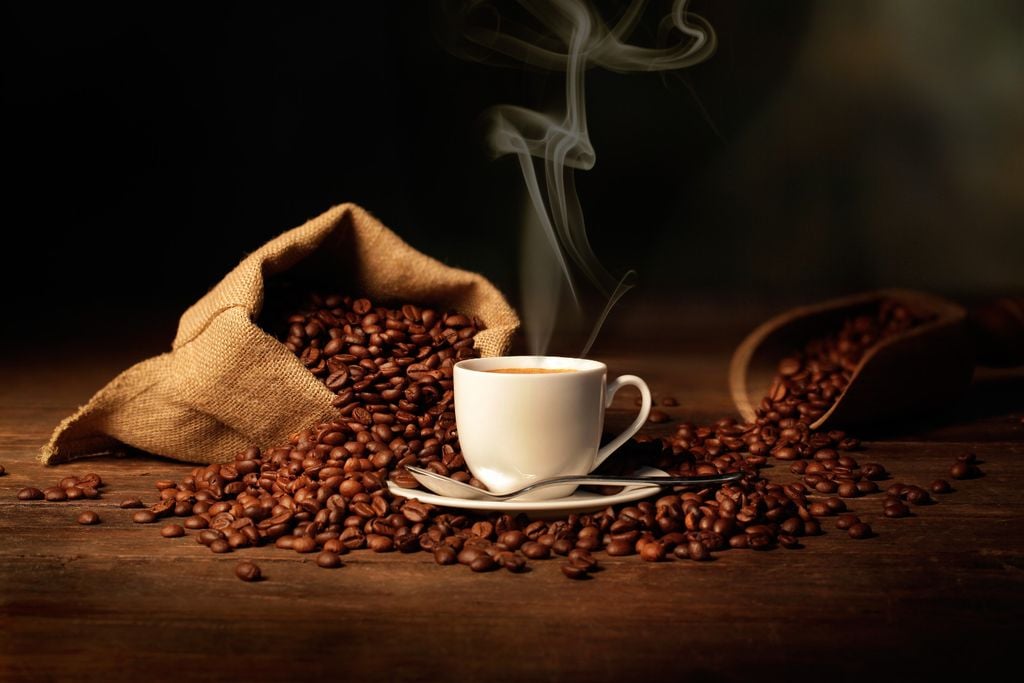 Coffee is a huge part of daily Vietnamese life. Vietnam is the second-largest coffee producer in the world.
There is one things that we call "Coffee culture" in Vietnam
The Vietnamese like their coffee nice and slow, and setting up the filter and choosing right time to drink is an art in itself. When the coffee is good, you'll want to make it last.
Vietnamese people drink coffee morning, noon and night, at proper cafes or on little plastic stools on the street. Cafes — be they sit-down outdoor coffee shops, indoor coffee shops or more casual street-side coffee stalls are just a few of the gathering places for people of all ages.

O mai (salted or sugared dried fruits)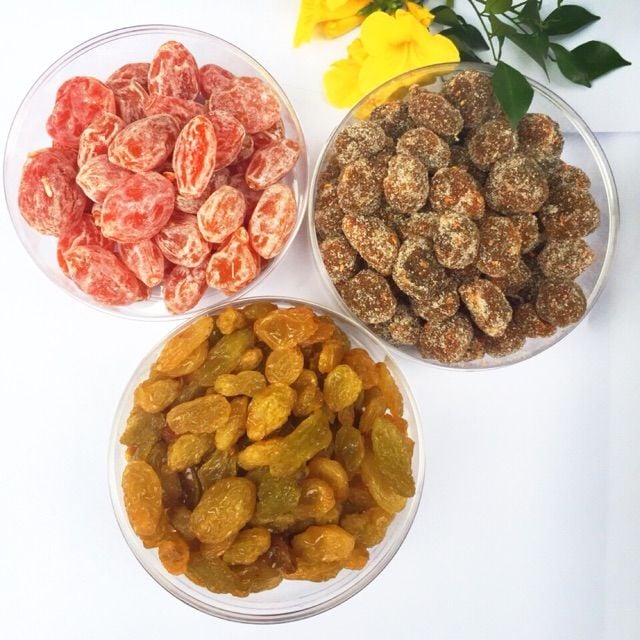 O Mai is a traditional specialty of Hanoi, which is dried fruits mixed with sugar, salt, lime, chili, and ginger to obtain a harmonious taste of salty, sweet, sour, and spicy. The most common fruits used to make O Mai are plum, apricot, peach, dracontomelum, star fruit, tamarind, kumquat, pineapple, and mango.
To Hanoi people, O Mai is a quintessential snack to enjoy and to welcome guests during Tet holiday (Lunar New Year). Its flavour is best brought out with a cup of lotus tea.
Coconut Meat Jam
One of the most popular candied fruits for an are? Tet' dish is Coconut Meat Jam, which is favored by almost every person from the North to the South of Vietnam. Included in a coating of sugar coating, Coconut Meat Jam come in many colors, and their divine taste is comparable to that of sweet, dried coconut. Your kids will definitely get excited about these creamy and crunchy ribbons. In the cozy family atmosphere of New Year Day, people often enjoy sipping on their tea and busy consuming some sweet candied coconut, while chatting the day away.

Green rice flakes "Com"
Com can come from different parts of Vietnam but there is one particular kind that's most prized – that from Vong village (Lang Vong) located on the outskirts of Hanoi, right off the highway and a few hundred meters from the Ha Pagoda. For northern Vietnamese, particularly Hanoians, com from Lang Vong has a special place in their hearts. The rice grown in that village is wonderfully flavored and fragrant, a unique artisanal product that's only grown and harvested in autumn by farmers of that village. Super fresh cốm from Vong village is considered the best. During com season, some people place a some on their ancestral altar as an offering.
The rice is hand harvested and then winnowed using a large, flat bamboo tray. The grains are then slowly dry roasted over a wood-fire and then transferred to a large mortar and pestle. Gentle, rhythmic pounding removes the husks from the grains, which are then winnowed and pounded again. (Extracted green juice from crushed young rice plants may be added during this process to yield a more vibrant green color.) The winnowing and pounding happens exactly seven (7) times to remove the husk. If there's too much pounding, the rice loses its green cask and turns brown. Once done, the finished com is carefully stored in layers of lotus leaves so that it may remain fresh and tender. Some people say that cốm is at its ultimate best within 24 hours of being processed.
May be you are interested in: